Pregnancy Chiropractic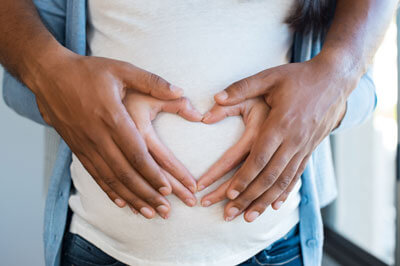 Pregnancy is a special time in life. Though transformational, that certainly doesn't mean it's easy. You need to make sure your body functions at an optimal level. At Capital Family Chiropractic, our chiropractors love seeing pregnant women. You'll find that chiropractic can make you more comfortable and mobile during pregnancy, as well as promote your proper posture.
Just like anyone else, a pregnant woman needs to see a chiropractor to make sure their body has the proper biomechanics. If you're embarking on a journey of pregnancy, childbirth or are in the early weeks of motherhood, it can be an intense experience. After birth, your focus is completely on the baby. You're lifting them all the time, breastfeeding and have a ton of strain on your spine. You need to go into pregnancy with the best possible health.
Dr. Bidgood and Dr. Milton have a young daughter, Ella. While Dr. Bidgood was pregnant, she wasn't feeling great. Recovering after delivery wasn't easy, either. After realizing the negative effects on her spinal health, Dr. Bidgood decided to get adjusted more often.
Through these trying times, Dr. Bidgood would remind herself of four words: embrace, adapt, emerge and resilience. Embrace where you are. Through chiropractic care, teach your body to be more adaptable. You'll emerge from this experience feeling more resilient.
How do you adjust pregnant women?

We have pregnancy pillows so you can lie comfortably on your belly. There are blocks we'll use, drop techniques and different forms of adjusting. These include instrument-assisted and manual adjusting methods. Through each stage of pregnancy, we'll be sure to meet your particular needs.
What is the procedure of the first visit?

Just like anyone else, our pregnancy patients will have a consultation, examination and first adjustment. During the part where we talk about your history, however, there will be a significant focus on your pregnancy.
Should I bring anything with me to my first visit?

If you have paperwork from your doctor or midwife that you think is important, please bring it in with you. Otherwise, come as you are and get ready to heal!
When is the best time during my pregnancy to start care?
There is never a wrong time to
begin chiropractic care
. You can start seeing our doctors at any point during your pregnancy. The sooner, the better!
What frequency of care will I need?

We usually recommend several visits closer together in the beginning, then space them out throughout your pregnancy. You may want to come in more often as your baby's due date nears. It's particularly important to follow up after birth, due to the strain and challenges this period of life will place on you.
Can I get adjusted while I'm in labor?

Yes, in the early stages of labor, you can get adjusted. It's a good way to ensure that your body is in the proper alignment and as ready as possible for birth.
Do you work with midwives?

There are many midwives in our area that recommend their patients come to see us for care.
Take the Next Step
If you're pregnant, you want to make sure that you're at your best, physically and mentally. Chiropractic care can help you get there. Contact our friendly team today to schedule your initial consultation for pregnancy chiropractic Fairfield! Same-day visits are available for immediate attention.
CONTACT US »

Pregnancy Chiropractor Fairfield, Victoria BC | (250) 588-1580